Building card with monthly sales targets - target-to-date
I'm fairly new to domo and am really struggling with something that seems pretty simple.
I just want to create a bar chart with our monthly sales over the year but have a running line graph showing where we are in terms of target-to-date
Example. If our monthly target is $17,000 how do I get that line to double in Feb, triple in Mar, etc.?
I've only been able to graph a straight line across and have the month's total in the graph.
Another option would be a gauge but I can't seem to figure out where I'm getting $130 as my target in dark grey...or how to get it to show where I am to date. (if I'm 8.5% above my target, i would want a line or something to show that I'm exceeding it currently)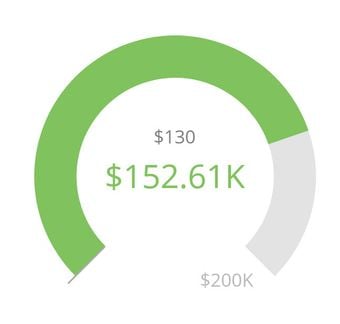 Answers
This discussion has been closed.
Categories
1.2K

Product Ideas

1.4K

Connect

2.7K

Transform

2.9K

Visualize

514

Automate

26

Predict

332

Distribute

67

Manage
Community Forums